#Kawena5 - Kawena 5

| | | | | | |
| --- | --- | --- | --- | --- | --- |
| Area | View | Type | Bedrooms | Bathrooms | Sleeps |
| Kona Coast/Kailua-Kona | Ocean View | House | 5 | 5 | 10 |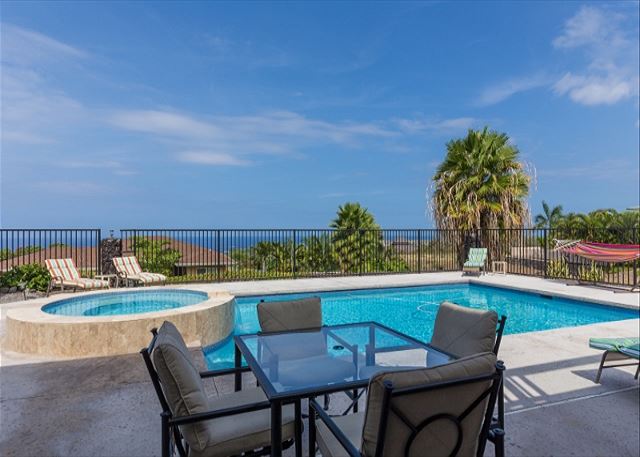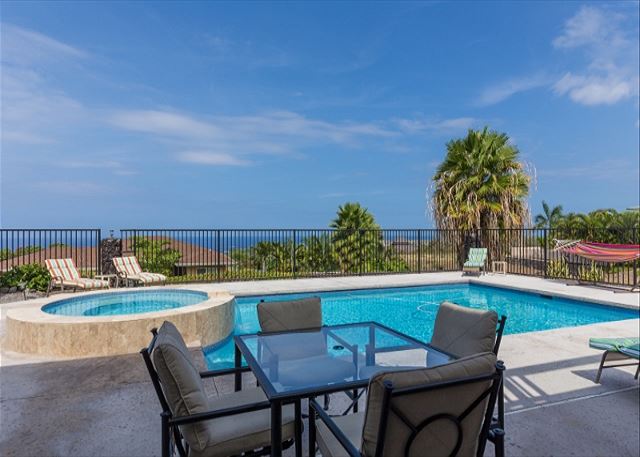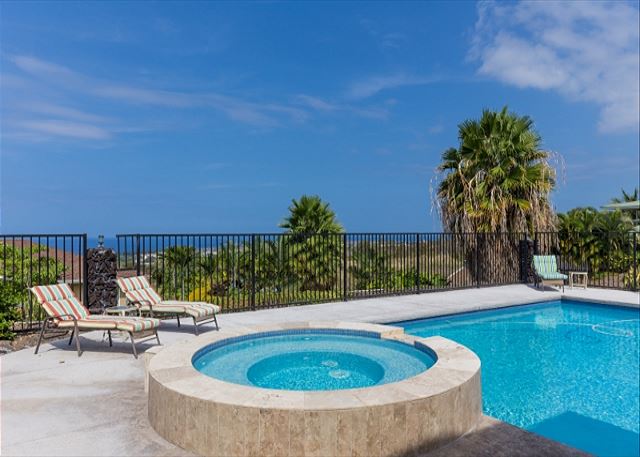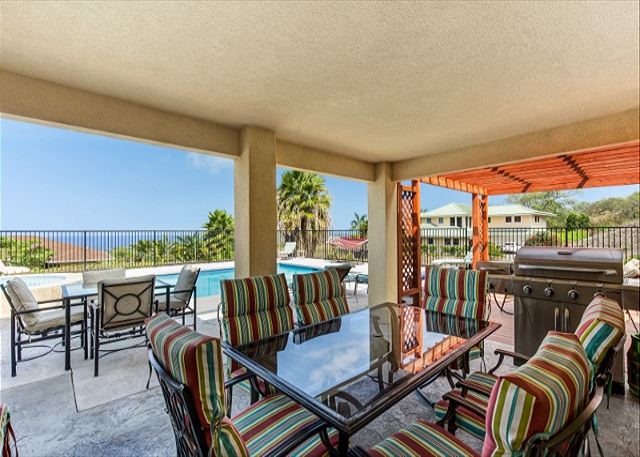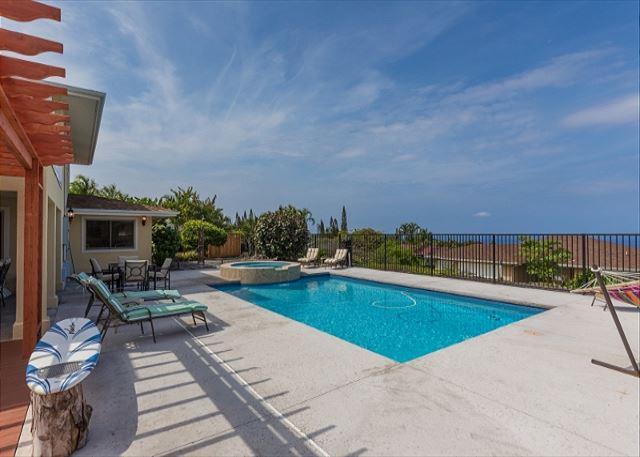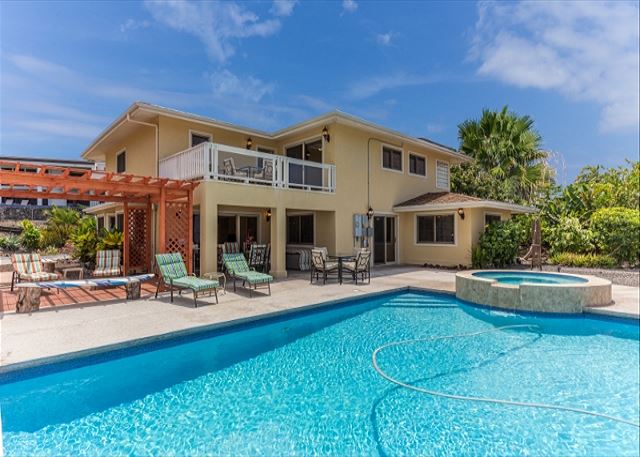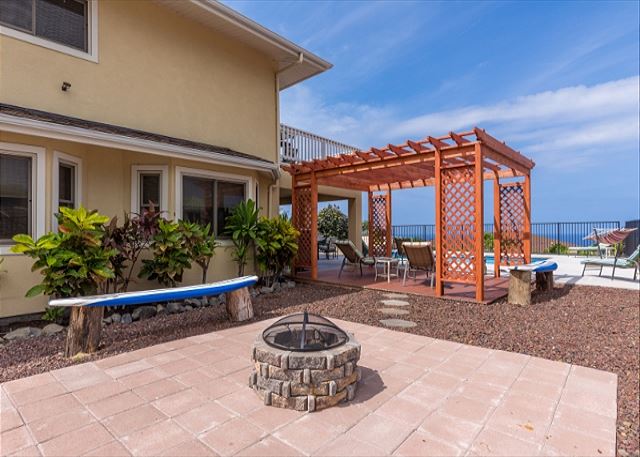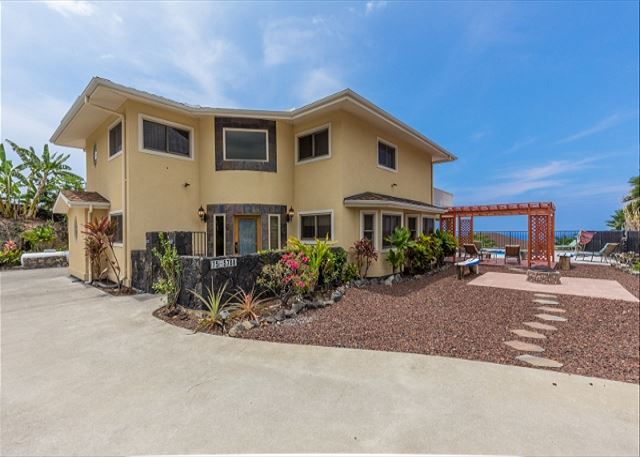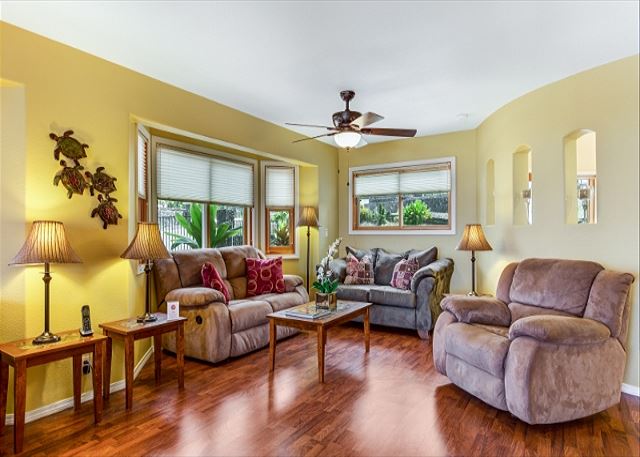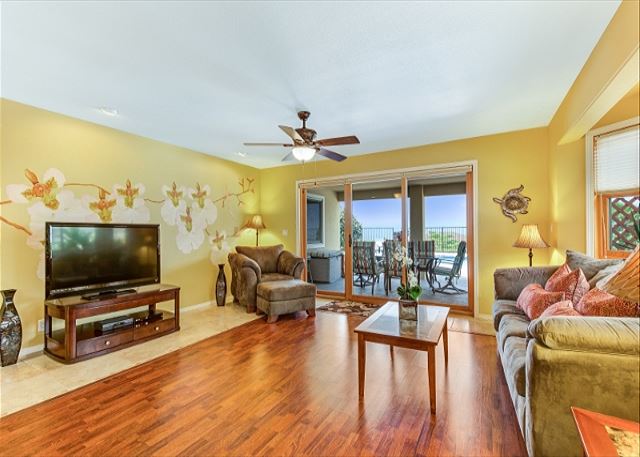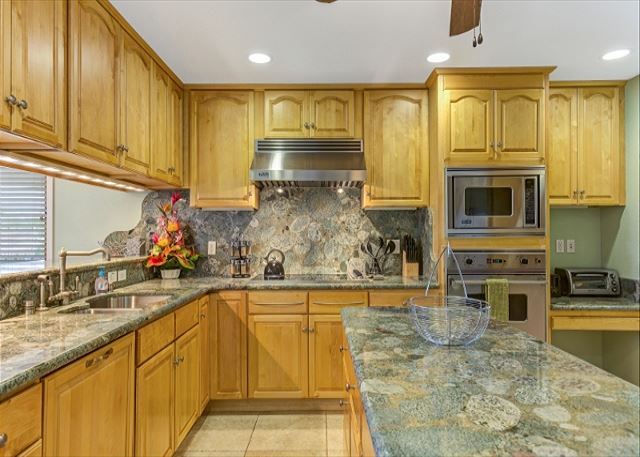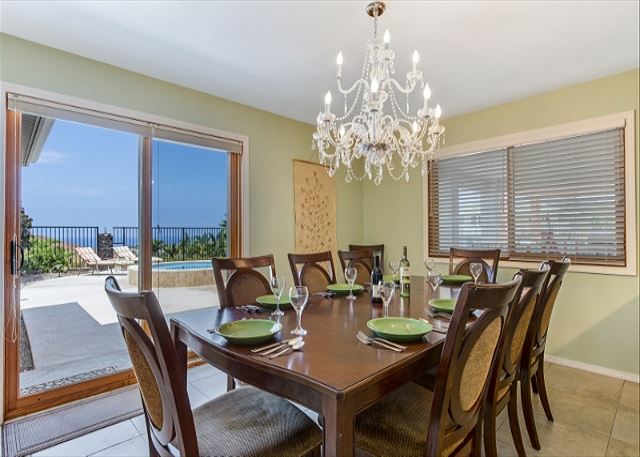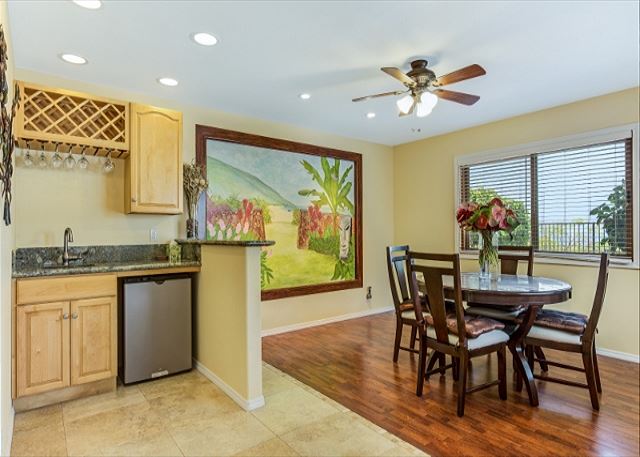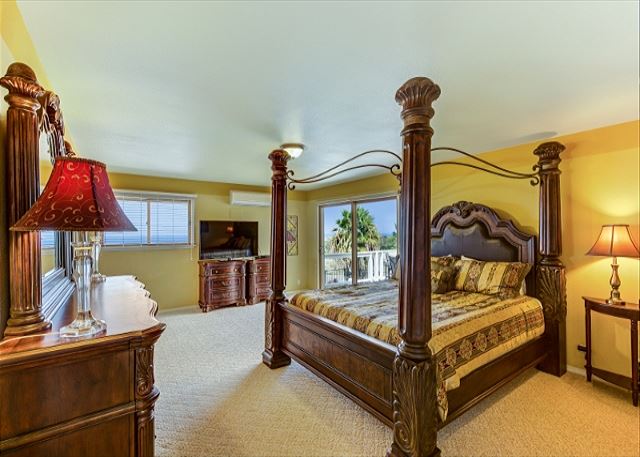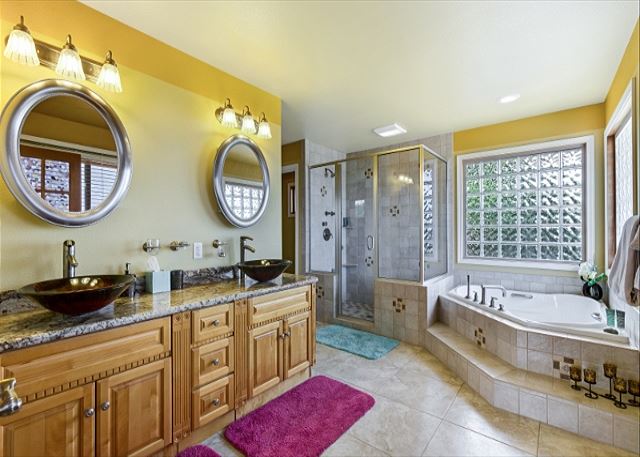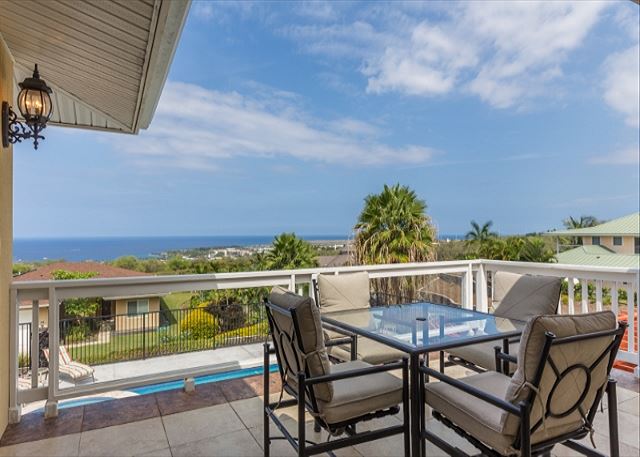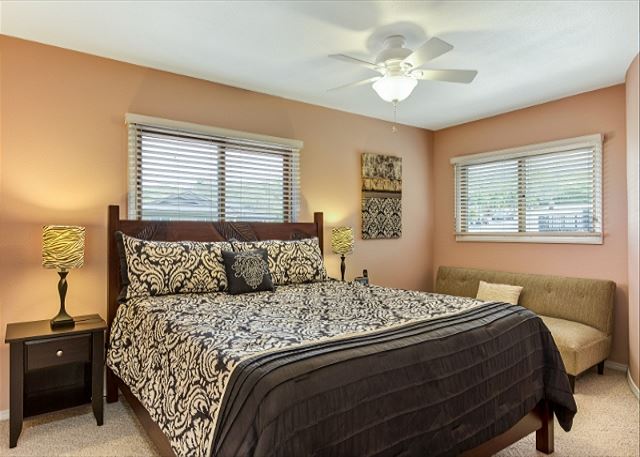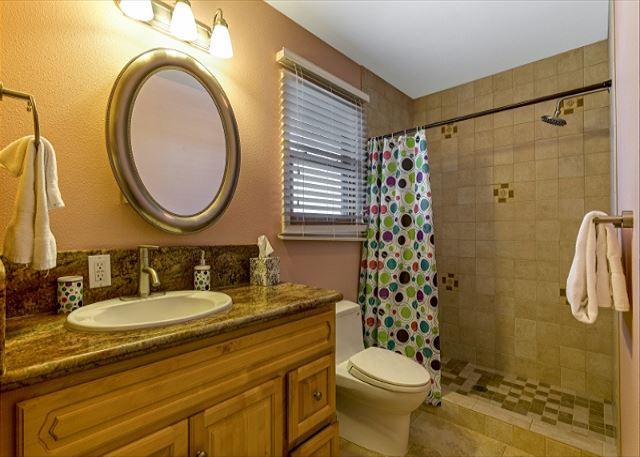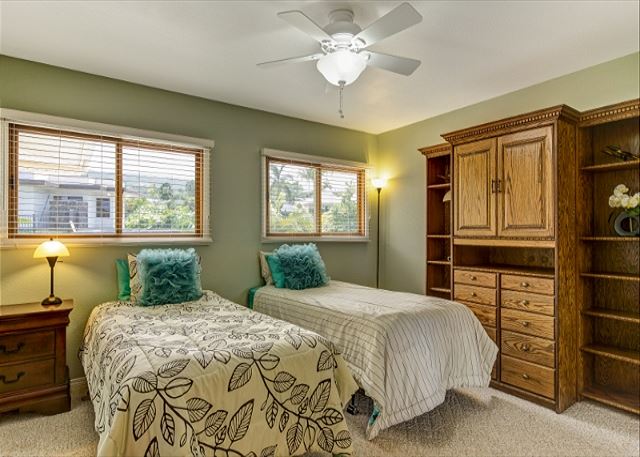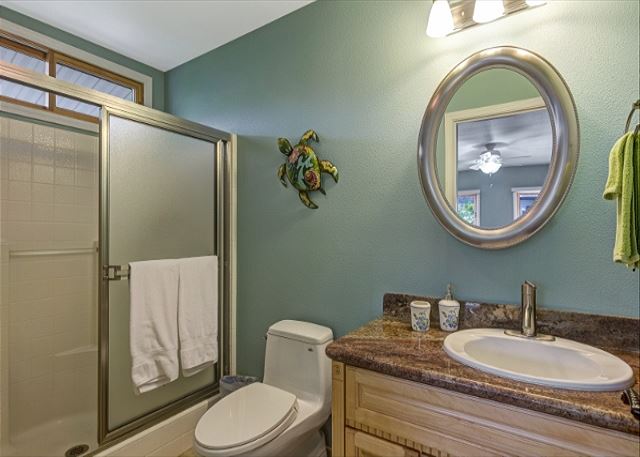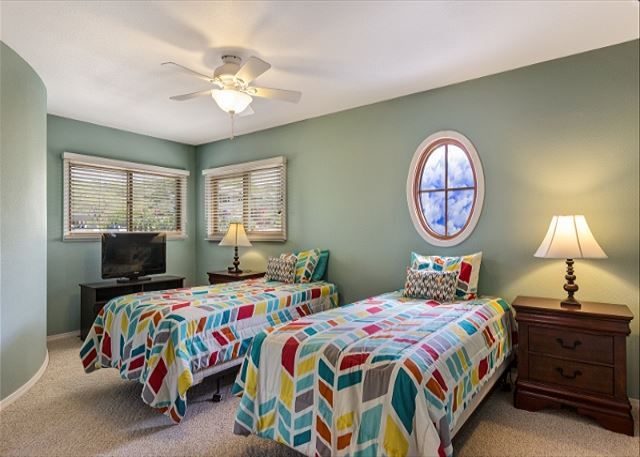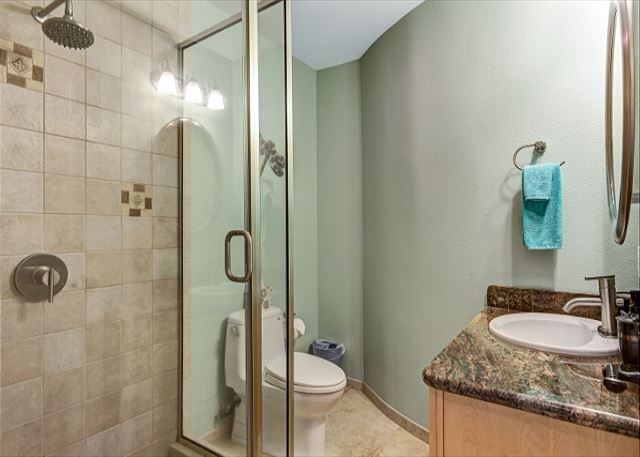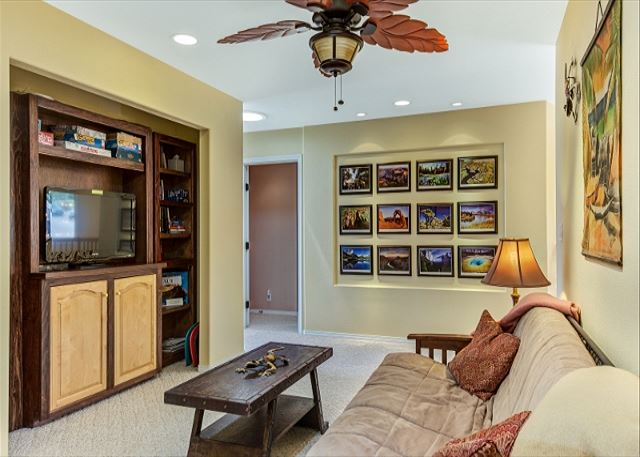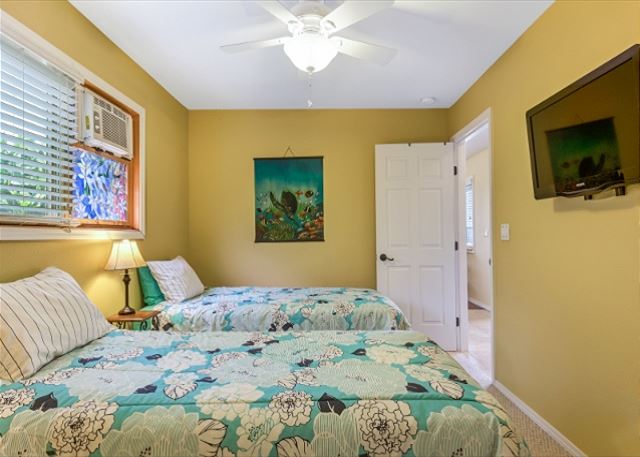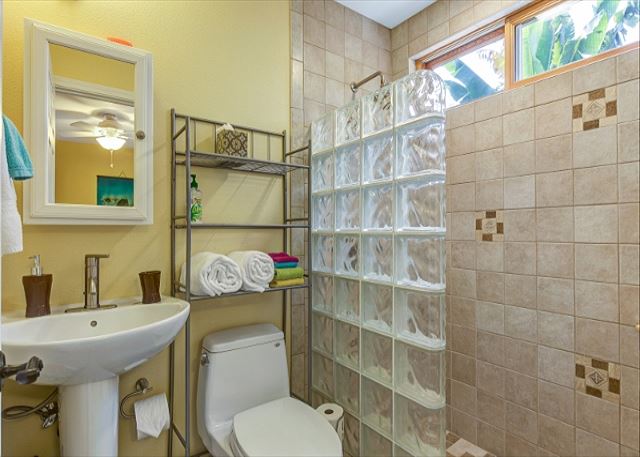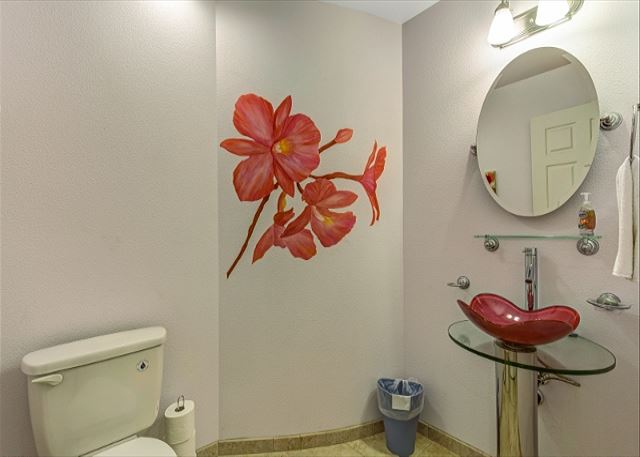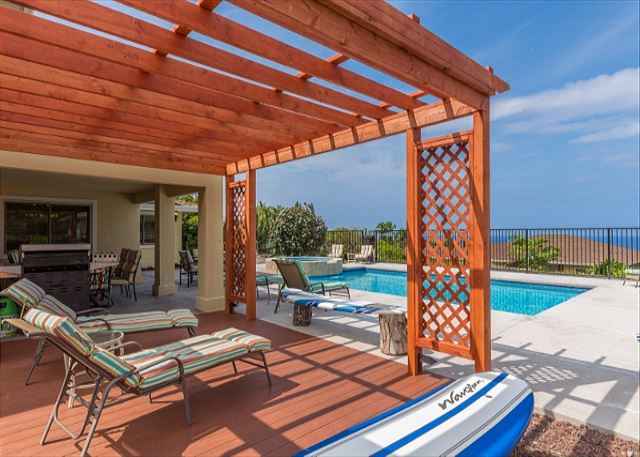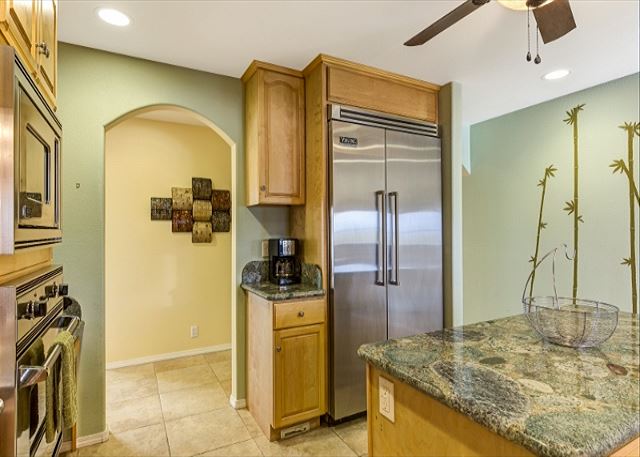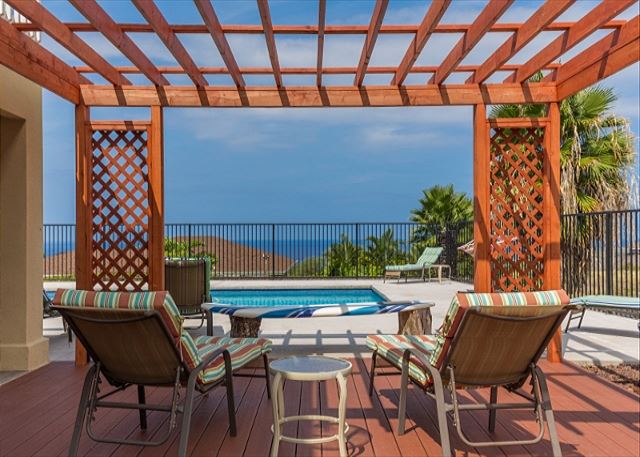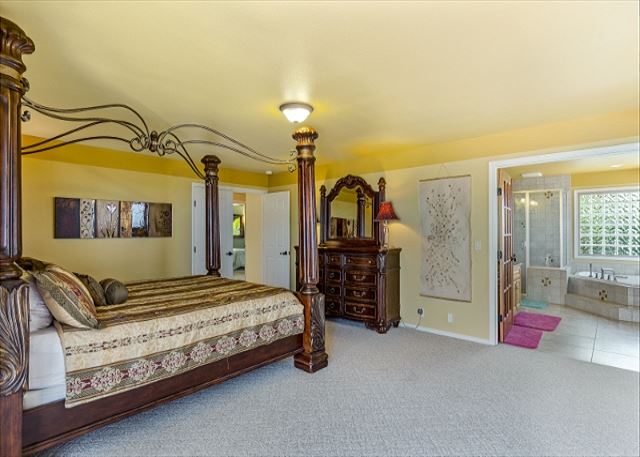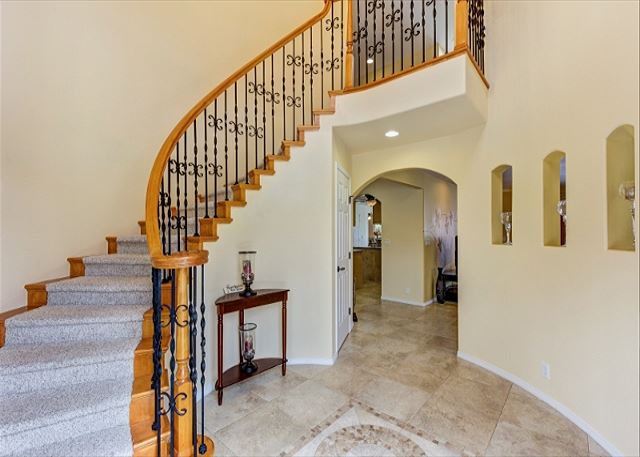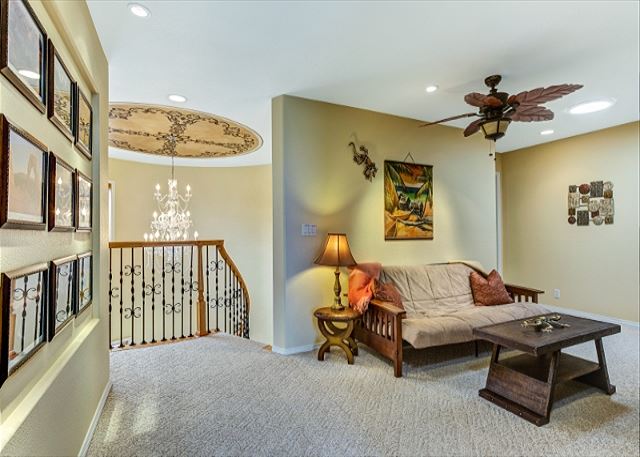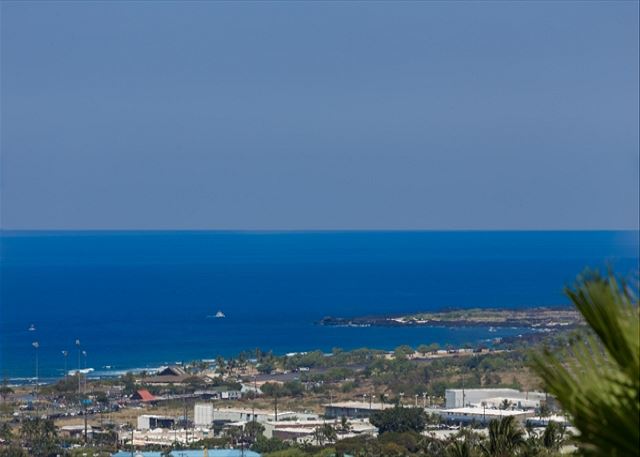 Directions: Click on the calendar to select your arrival and departure dates. Then calculate your rental cost and book it!
Experience the exquisite natural beauty of the Big Island. This beautiful 2008 home is located in an extremely quiet neighborhood in Kona. There are 5 bedrooms – each with a king size bed option and all en suite. The Master and 2nd bedroom have King beds. Bedroom 3, 4 & 5 have Twin Beds that can be converted to King beds for an additional fee. Four of the bedrooms are located on the upstairs floor and one on the lower level. and all of the bedrooms have AC. There is also a futon that converts into a full size bed. Each bedroom has new furniture, bedding and linens.

The kitchen is well appointed with all Viking appliances – including a 6 burner stovetop. For those interested in staying fit while on vacation, there is an exercise room equipped with an ellipse, treadmill, recumbent bike, Smith machine, and free weights. Imagine enjoying swimming and lounging by the brand new outdoor pool with whirlpool which is heated from 5:00 pm to 8:00 pm each night.and then dining on the lanai with amazing ocean views. The side yard is full of banana trees, a starfruit tree, and herbs and vegetables. You are welcome to pick what is ripe.

The Kailua Kona Bay view greets the early morning riser and the sunset over the ocean is spectacular – especially from the rooftop deck.

The house is close, approximately 2-4 miles, to a variety of activities for you and your guests to utilize, this includes beaches like Kahaluu Beach Park and White Sands Beach: major department stores and boutiques, dining choices range from fast food to fine dining restaurants and/or hiring a personal chef to prepare meals at the house.

Don't imagine it - come to Kawena and experience the real Hawaii. You and your guests will not be disappointed!

There is a 5 night minimum stay/10 during Ironman & Christmas season. This is a non-smoking, no pets property. Hawaii Tax ID: W58675709-01
AC Wall Unit in Bedroom 2
AC Wall Unit in Master Bedroom
Bathroom 3 has a Shower
Beach Towels One Per Guest
Bedroom 4 has Convertible Twins
Cable TV
Coffee Grinder
Cookware
Dishwasher
Hair Dryer
Ice Maker
Island Tours
Maps at konacoastvacations.com
Mixer
Oven
Refrigerator
Stove
Television in Main Living Area
TV in Bedroom 5
Water Based Activities
Master Bedroom has a King Bed

AC Wall Unit in Bedroom 3
AC Window Unit in Bedroom 5
Bathroom 4 has a Shower
Bedroom 2 has a King Bed
Bedroom 5 has Convertible Twins
Ceiling Fans Throughout
Coffee Maker
Cooler
DVD Player
Half Bathroom
Internet
Living Room
Master Separate Shower/Tub
Not ADA Compliant
Private BBQ
Rice Cooker
Street Parking
Toaster
Upper & Lower Lanai
Wine Refrigerator

AC Wall Unit in Bedroom 4
Bathroom 2 Combined Shower/Tub
Bathroom 5 has a Shower
Bedroom 3 has Convertible Twins
Blender
Clothes Dryer
Concierge Service Available
Cultural Shows and Events
Gated access
Hand Mixer
Iron & Ironing Board
Local Telephone Service
Microwave
Ocean View
Private Swimming Pool
Shopping and Dining
Tea Kettle
Toaster Oven
Washing Machine
www.konaconcierge.net
| Start Date | End Date | Weekly Average |
| --- | --- | --- |
| 04/01/15 | 10/01/15 | $ 3,675.00 |
| 10/02/15 | 10/16/15 | $ 5,075.00 |
| 10/17/15 | 12/19/15 | $ 3,675.00 |
| 12/20/15 | 01/05/16 | $ 5,075.00 |
| 01/06/16 | 03/31/16 | $ 4,410.00 |
| 04/01/16 | 09/29/16 | $ 3,675.00 |
April Vacation

A Guest from Phoenix, AZ recommends this property
Stayed 8 days in Mar, 2015
Beautiful property, responsive management company (not intrusive). Overall great stay.

Overall Satisfaction
Services from rental manager
Cleanliness
Location
Property Condition

Large, well equipped home

A Guest from Friday Harbor, WA recommends this property
Stayed 12 days in Feb, 2015
We found the property to be clean, well furnished, very large, and quite well equipped, from the kitchen to the many beach toys, towels, chairs, etc. The pool and hot tub was very nice, and views to the ocean and sunset nice. It was also conveniently located. On the down side, the house is close enough to the main highway that we heard every ambulance, police car and fire truck on every 911 call made all day and night, along with a fair amount of traffic noise. Also, despite being high end (Viking) appliances in the kitchen, the oven was very temperamental, and the cheap turntable mount on the microwave was broken (looked like multiple glue jobs had failed), causing the metal carousel tray to bump into the interior wall and arc out. The slider from the kitchen to the lanai was also in need of major work. Forget "sliding" it unless you can lift its entire weight.

Overall Satisfaction
Services from rental manager
Cleanliness
Location
Property Condition

Gorgeous, Spacious, Fantastic Hawaiian Vacation Home!

A Guest from El Sobrante, CA recommends this property
Stayed 7 days in Jul, 2014
This beautiful home was perfect for my family to spend our week in Kona for our large family reunion! It is a wonderful home--beautifully decorated and furnished, with plenty of space for all. The pool and outdoor area is beautiful too and my entire family agreed that this is the best home we have ever stayed in.
Only a few suggestions from my family members:
It would be nice if the jacuzzi had warm water, rather than the same temperature as the pool, and it would be nice if we could control it to be able to use it when we would like to, rather than just the evening hours. Also, the downstairs bedroom closet has the sloped ceiling and one family member hit his head and would like to suggest that a warning strip be painted on the ceiling since it is all white and blends in.
We look forward to staying in this absolutely perfect and beautiful home again for our next reunion!


Overall Satisfaction
Services from rental manager
Cleanliness
Location
Property Condition

Few Flaws Offset by Gorgeous View and Top Notch Responsiveness

David D. from Frederick, MD recommends this property
Stayed 10 days in Dec, 2013
Our "ohana" of seven stayed at Kawena 5 for 10 days in late December. The property has a lot of pluses: great location, only 5 minutes from central Kailua and an expansive view of Kailua Bay, top-of-the-line appliances, granite everywhere, tastefully furnished. The property is, however, a work-in-progress. The dishwasher had not been fully installed (not screwed in), landscaping is not finished, and the spa (not heated) did not have working jets until late in our stay. While each bedroom has air conditioning, the house has no central air, so the common areas (kitchen, dining, gaming) tend to get very warm and stuffy. We had problems with clogged condensate lines in three of the bedrooms, where water would drip onto furniture below the AC units, but the maintenance was prompt and the issue was resolved the following day.

Overall Satisfaction
Services from rental manager
Cleanliness
Location
Property Condition

Very nice house and good location

A Guest from Calgary, xx recommends this property
Stayed 7 days in Nov, 2013
Overall I would say we had a very good experience in this house. It was nice to have a king bed and ensuite for each couple. It seemed centrally located.

Overall Satisfaction
Services from rental manager
Cleanliness
Location
Property Condition
All prices and/or descriptions are subject to change. Although every precaution is taken, errors in prices and/or descriptions do occur on our web site and in printing. We reserve the right to correct any such error.