#PHKBEKo - Kokua at Kona Bay Estates

| | | | | | |
| --- | --- | --- | --- | --- | --- |
| Area | View | Type | Bedrooms | Bathrooms | Sleeps |
| Kona Coast/Kailua-Kona | Ocean View | House | 3 | 3.5 | 8 |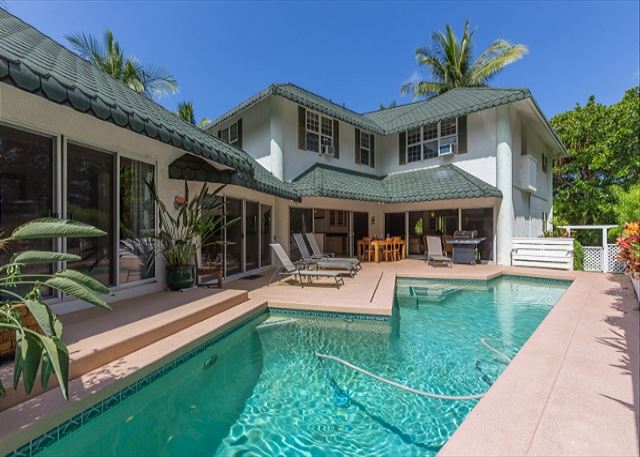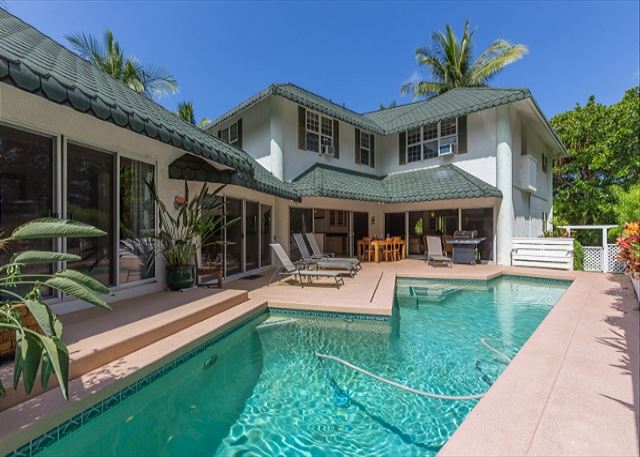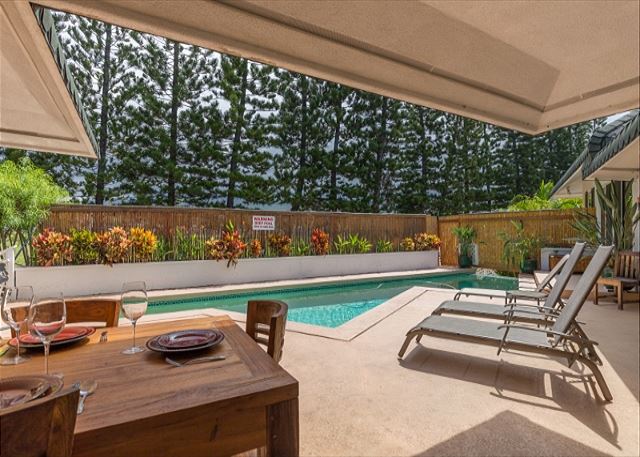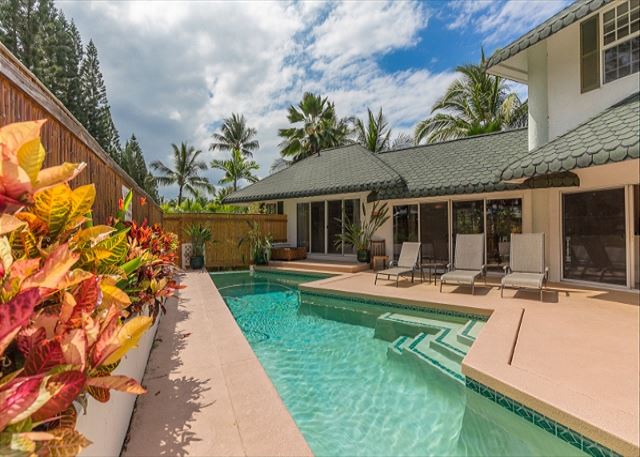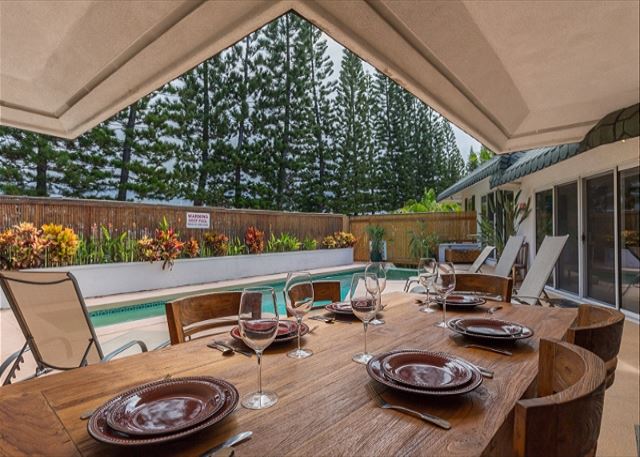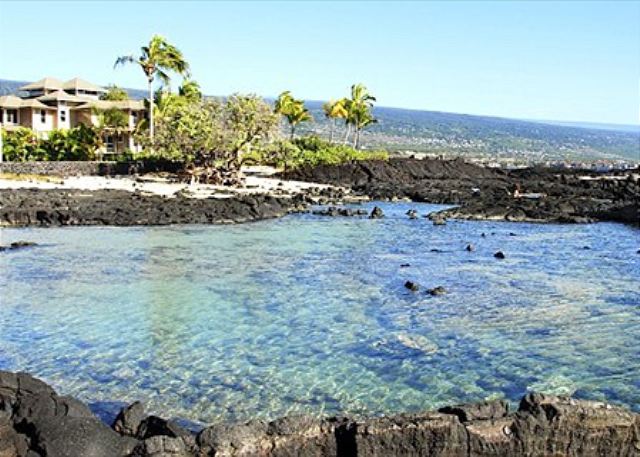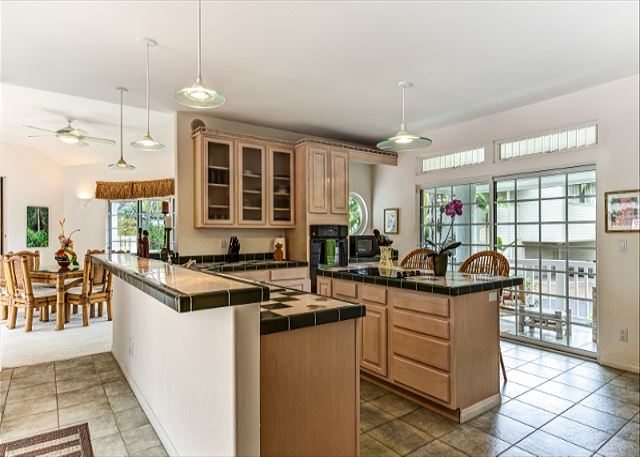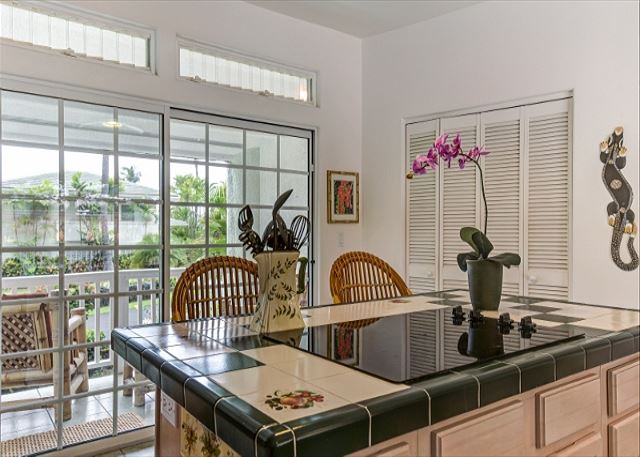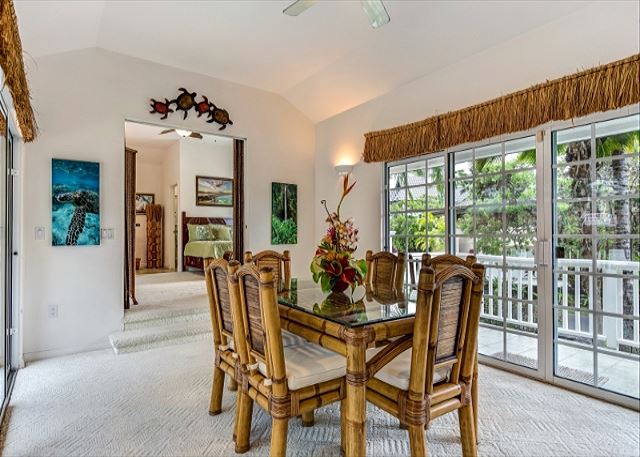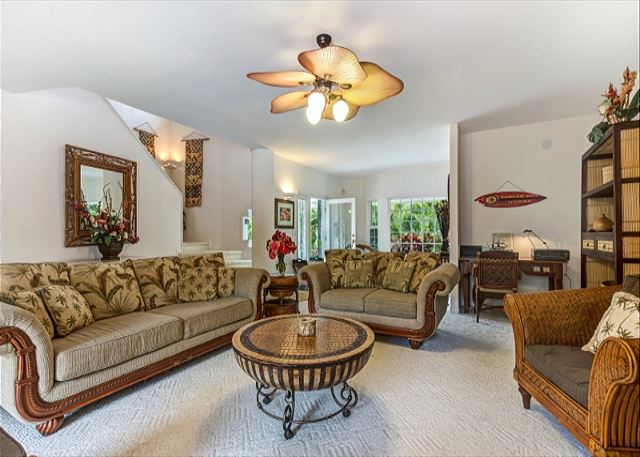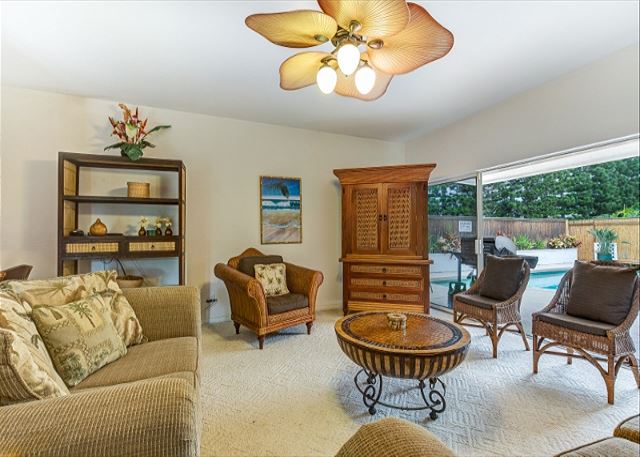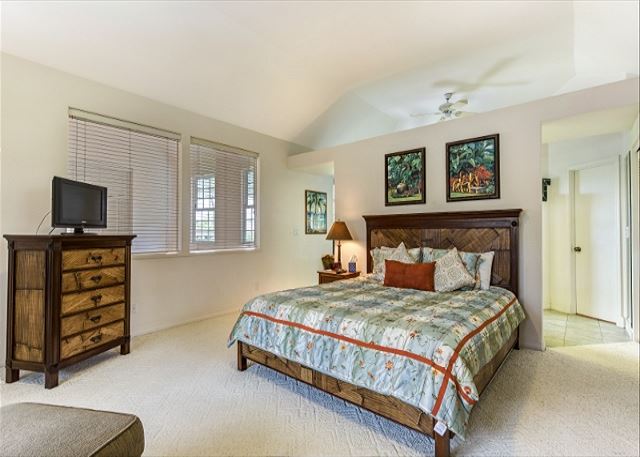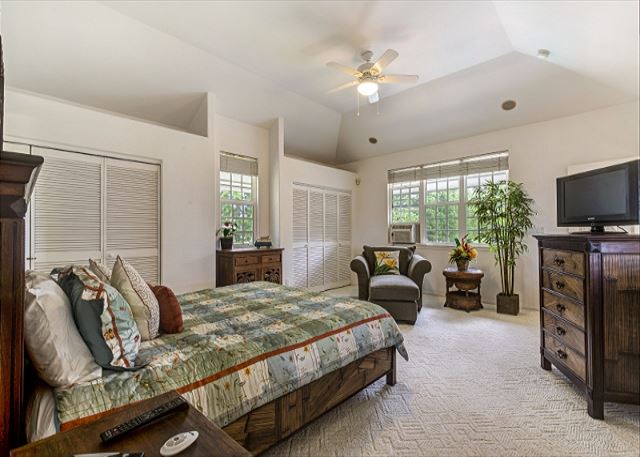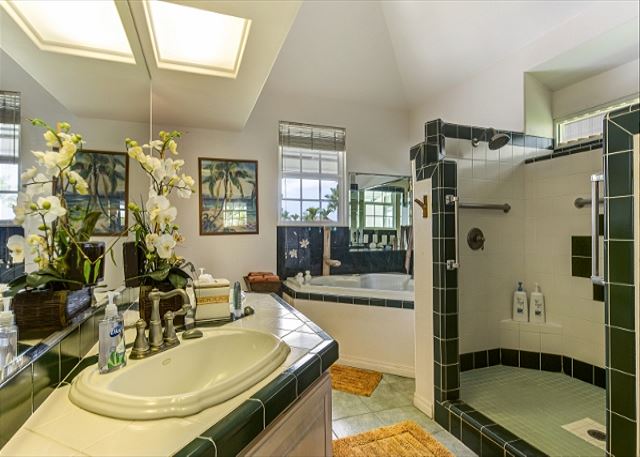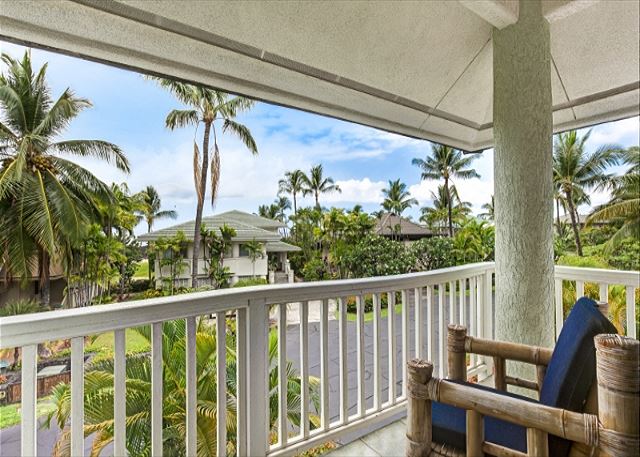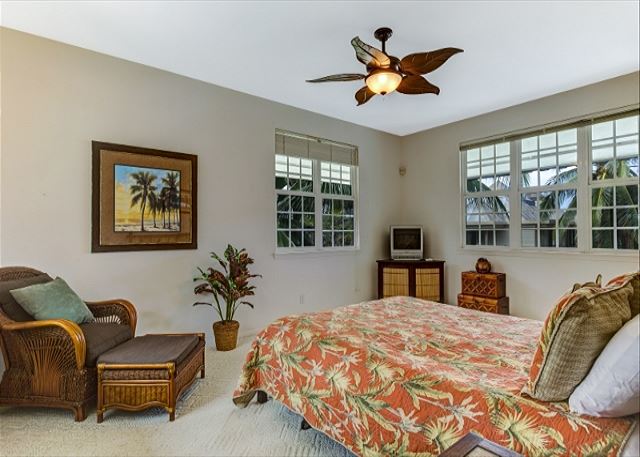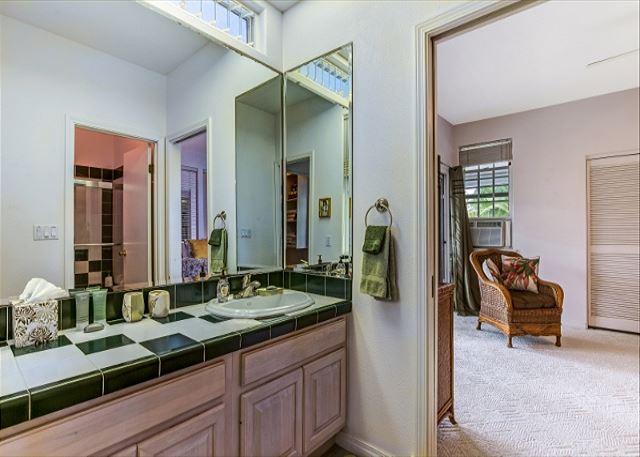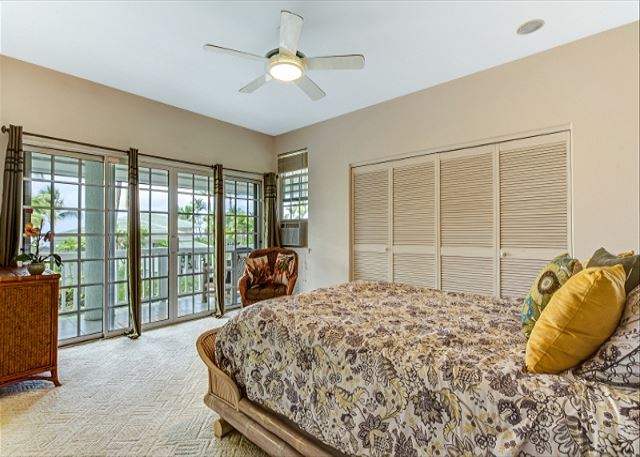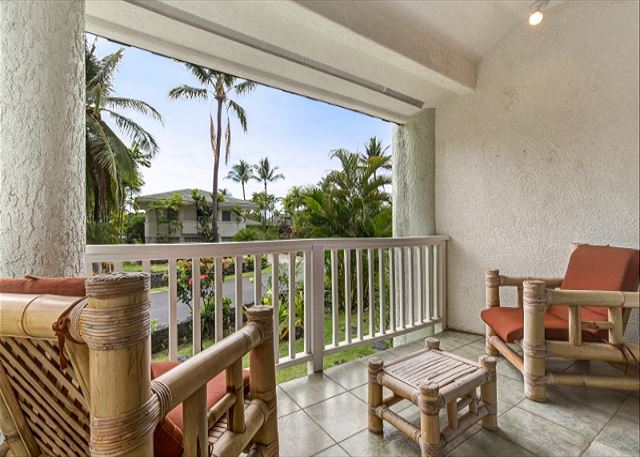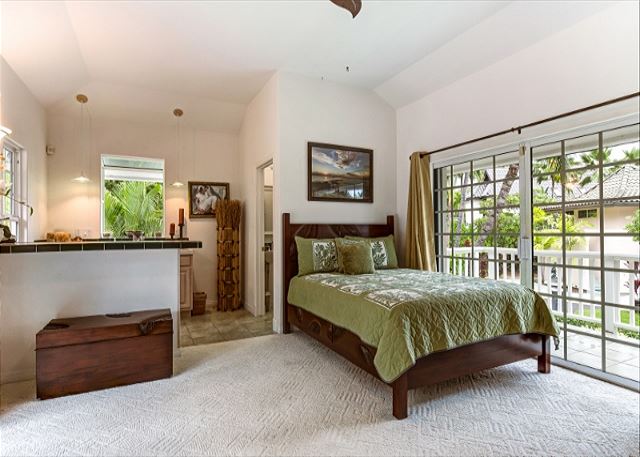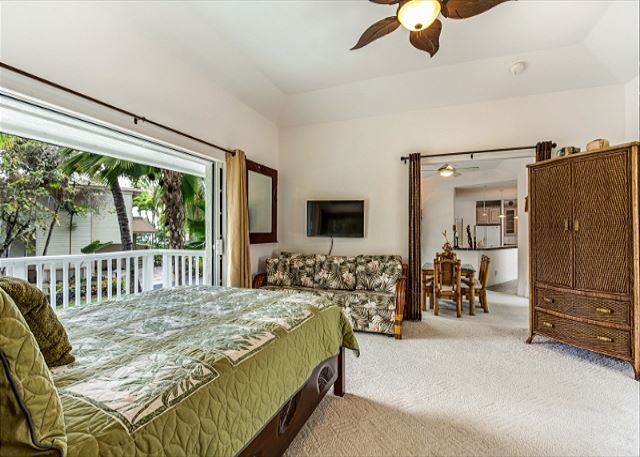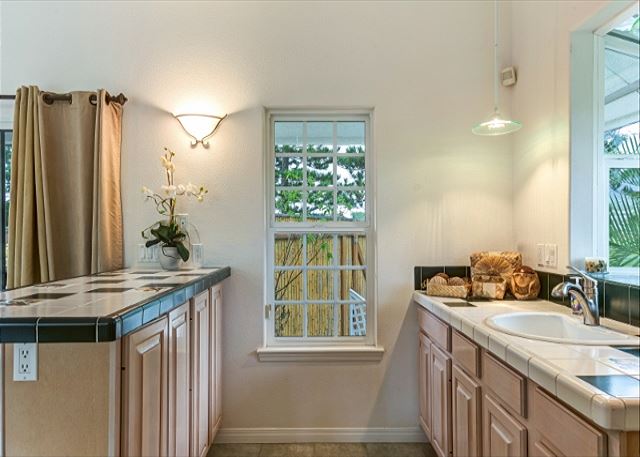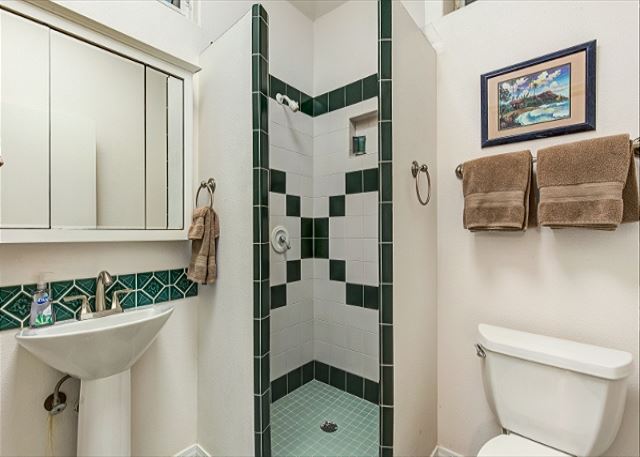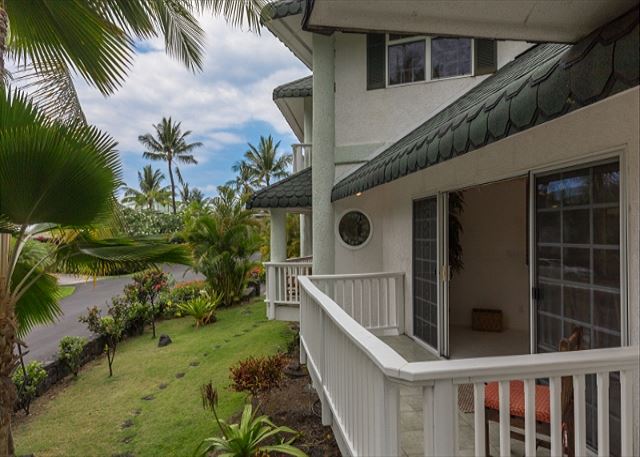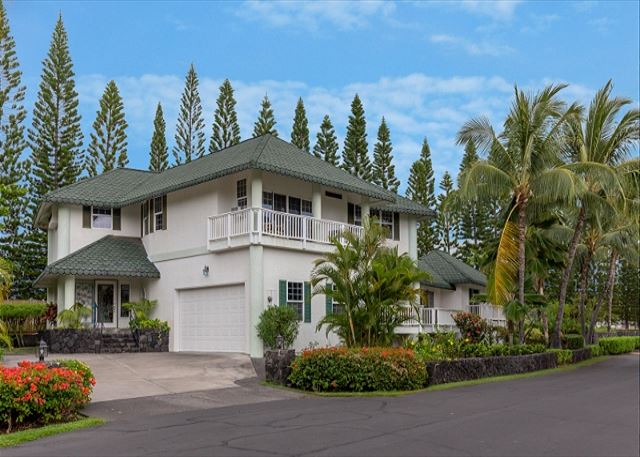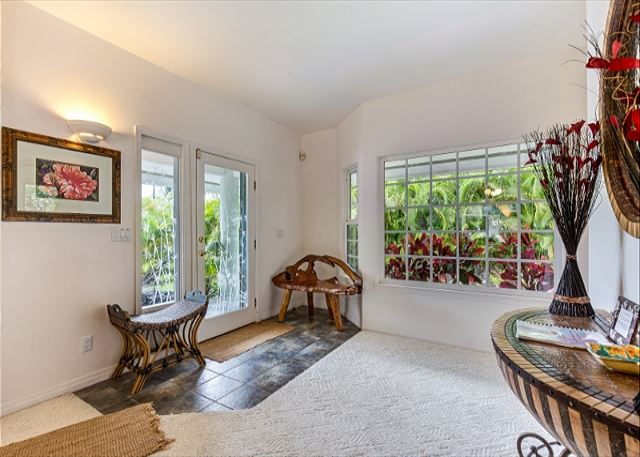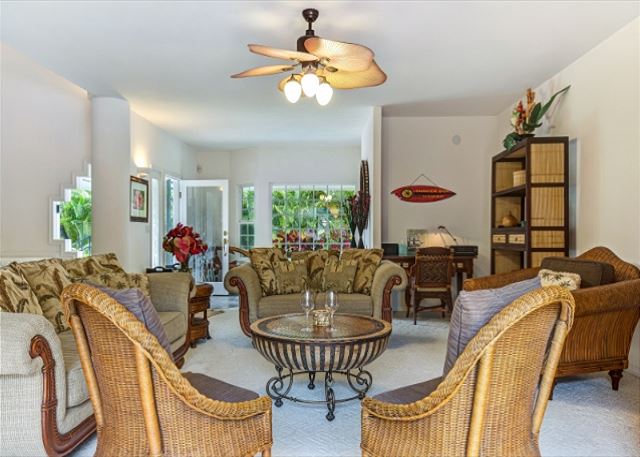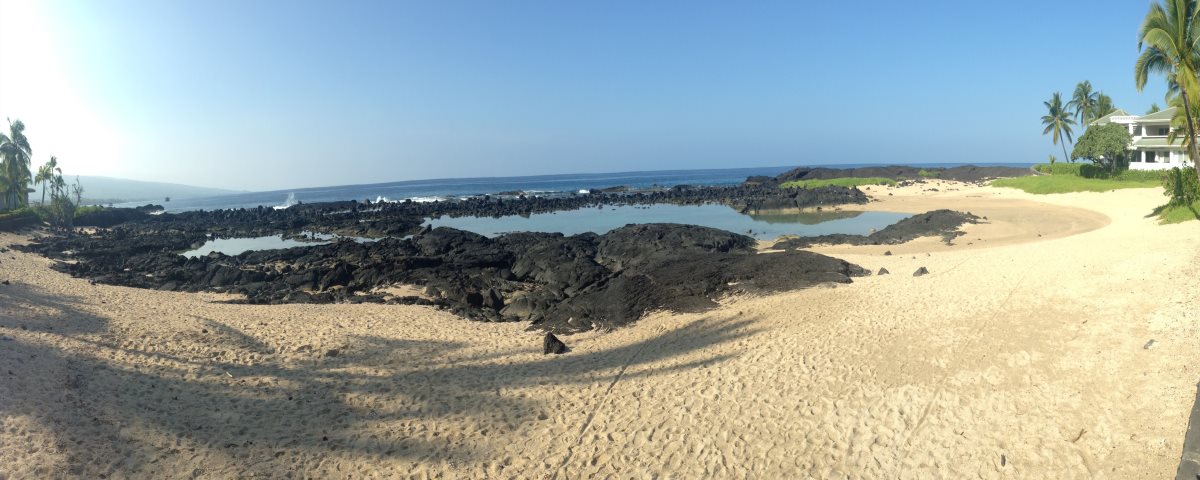 Directions: Click on the calendar to select your arrival and departure dates. Then calculate your rental cost and book it!
This spectacular 2600 square foot luxury private home is located in a gated community with security guards. This private beach community is ideally set next to one of the only year around protected beaches with tropical vegetation, lots of white sand, and crystal clear water. You simply walk out of the house with your folding chair and walk 150 feet to the quiet beach. Although the house is a short walk or drive to the village of Kona, the quiet neighborhood and oceanfront setting ensure that you can be lulled to sleep by the gentle sounds of the waves breaking and the ocean breeze in the palms. If you prefer, just hang around in the private pool.

Our home has everything you need for fine dining and entertaining. The kitchen is roomy, with a center island stove top and bar. We have mature tropical landscaping that captures the spirit of the islands. The home is designed for comfortable, relaxed Hawaiian living and features lanais and a swimming pool. It is beautifully furnished with everything to make your vacation as relaxed and enjoyable as possible, and has a fully equipped kitchen, dining and living room entertainment area. All the rooms have remote controlled fans to keep the home cool.

The master suite has a king size bed, and a walk-in shower for 2. It also has a private bath. The guest bedrooms have queen beds. Each guest bedroom has its own lanai with views of the tropical landscaping. The den also has a queen hide-a-bed which opens to the first floor lanai and swimming pool. The den has its own shower and bathroom. There is a 5 night minimum stay/10 during Ironman & Christmas season. This is a non-smoking, no pets property. Hawaii TAT Number W91911189-01
Luxury Rental
Bedroom 2 has a Queen Bed
Ceiling Fans Throughout
Concierge Service Available
Dishes and Utensils
Gated access
Infant Booster Chair
Island Tours
Local Telephone Service
Microwave
Private BBQ
Refrigerator
Sofa Sleeper in Main Living Area
Toaster
www.konaconcierge.net

AC Window Unit in All Bedrooms
Bedroom 3 has a Queen Bed
Clothes Dryer
Cookware
Dishwasher
Hair Dryer
Internet
Linens Provided
Maps at konacoastvacations.com
Not ADA Compliant
Private Swimming Pool
Shopping and Dining
Stove
Washing Machine
Master Bedroom has a King Bed

Beach Towels One Per Guest
Cable TV
Coffee Maker
Cultural Shows and Events
DVD Player
Ice Maker
Iron & Ironing Board
Living Room
Master Separate Shower/Tub
Oven
Queen bed in den
Sofa sleeper in den
Television in Main Living Area
Water Based Activities
| Start Date | End Date | Weekly Average |
| --- | --- | --- |
| 04/01/15 | 10/01/15 | $ 2,940.00 |
| 10/02/15 | 10/16/15 | $ 4,025.00 |
| 10/17/15 | 12/19/15 | $ 2,940.00 |
| 12/20/15 | 01/05/16 | $ 4,025.00 |
| 01/06/16 | 03/31/16 | $ 3,640.00 |
| 04/01/16 | 09/29/16 | $ 2,940.00 |
March 2015 Vacation

A Guest from Los Angeles, CA recommends this property
Stayed 9 days in Mar, 2015
My group was 5 people from 3 families for 9 nights. We were all impressed by the quality and location of the property. The kitchen was large and accommodated all of us milling around. Dining seating is set for 6. Outdoor patio furniture is very sturdy. Nice outdoor seating nooks up and down. You'll love this place! A few things to know: this is not oceanfront property but you are but a short walk to the beach area. A public park abuts and has frequent organized activities that can be noisy - but the field is not lighted so no close by activities at night. The property is within a guarded area that has frequent patrols - we felt very safe. Very well appointed kitchen, including a Keurig! Large washer/dryer in garage but upstairs w/d was perfect for our use. Adequate detergent and dryer sheets provided, same for all paper products. Bring your own spices, including salt and pepper. You'll have a terrific experience. And, use the concierge service - very friendly and helpful. They offer excellent car rental rate too.

Overall Satisfaction
Services from rental manager
Cleanliness
Location
Property Condition

Nice house, needs maintenance

Gary D. from Cheyenne, Wyoming recommends this property
Stayed 7 days in Oct, 2014
The house was a nice house in an excellent location. Area was quiet except when the football coaches were yelling at the youth football players across the back fence area. One night there was loud Mexican music that was very, very loud from somewhere in the same area as the football field. The maintenance items that should have been taken care of before we arrived was the pool maintenance, leaking water in the garage from a hole in the water line for the ice maker. The white carpet needs to be cleaned also, the umbrella in the table beside the pool doesn't work properly and the bathroom in the den area is on propane and a new bottle of propane had to be delivered. The management company addressed the problems in a timely manner. If the above problems had not been present, the home would be an excellent home to rent.

Overall Satisfaction
Services from rental manager
Cleanliness
Location
Property Condition

Escape from Toronto

William J. from Santa Monica, CA recommends this property
Stayed 5 days in Mar, 2014
My wife and I, from California, took our daughter and her boyfriend (who are living in Toronto) to someplace to defrost. Staying in the house, as close to downtown as most hotels, was so much better than staying in two cramped hotel rooms. The house itself is amazing, we ate all breakfasts and some dinners in (using the gas grill), and swam every afternoon. We were within walking distance of everything. We're planning on returning next spring.

Overall Satisfaction
Services from rental manager
Cleanliness
Location
Property Condition

Fantastic Family Home

Nancy K. from Hillsboro, OR recommends this property
Stayed 9 days in Jan, 2014
This is our third time we've stayed at this property and we love it! Now our grandchildren join us, thoroughly enjoying the pool, on the patio! We eat every meal outside, which is a treat. We highly recommend this home with or without children. The lagoon across the street is a lovely beach setting as well, with warm water. Idyllic!!

Overall Satisfaction
Services from rental manager
Cleanliness
Location
Property Condition

Annual Family Vacation Success

A Guest from Portland, OR recommends this property
Stayed 11 days in Sep, 2013
We spent 11 days at the property with our daughter's family. There were three children from 3 1/2 to 9 1/2. They really enjoyed the pool spending most of the daylight hours that we were "home" in the water. The older two enjoyed the keiki pool at the beach. The oldest learned to snorkel there. One of our local friends provided fishing gear so the kids could fish in the pool. They loved catching and releasing the fish. The house was very comfortable and roomy enough that we did not feel crowded with seven people. We would come back again. Our daughter recommended it to one of her co-workers. A great success all around.

Overall Satisfaction
Services from rental manager
Cleanliness
Location
Property Condition
All prices and/or descriptions are subject to change. Although every precaution is taken, errors in prices and/or descriptions do occur on our web site and in printing. We reserve the right to correct any such error.