#KReefD37 - Kona Reef D-37

| | | | | | |
| --- | --- | --- | --- | --- | --- |
| Area | View | Type | Bedrooms | Bathrooms | Sleeps |
| Kona Coast/Kailua-Kona | Ocean Front | Condominium | 1 | 1 | 4 |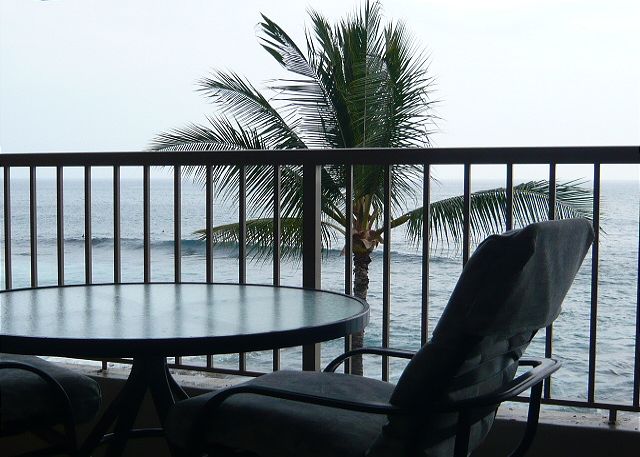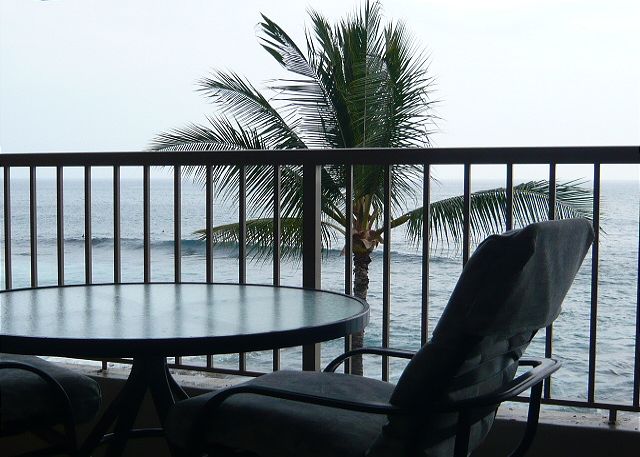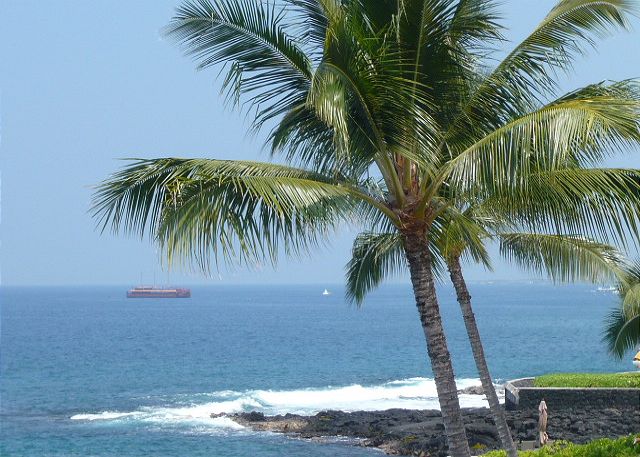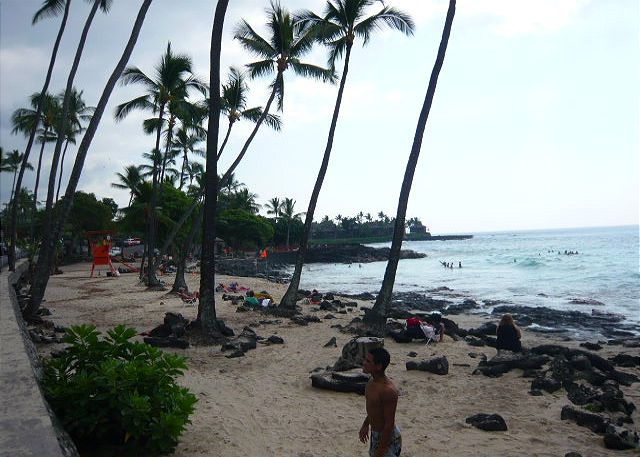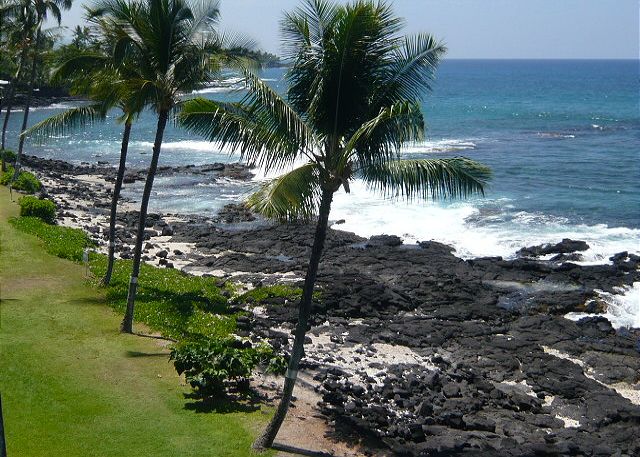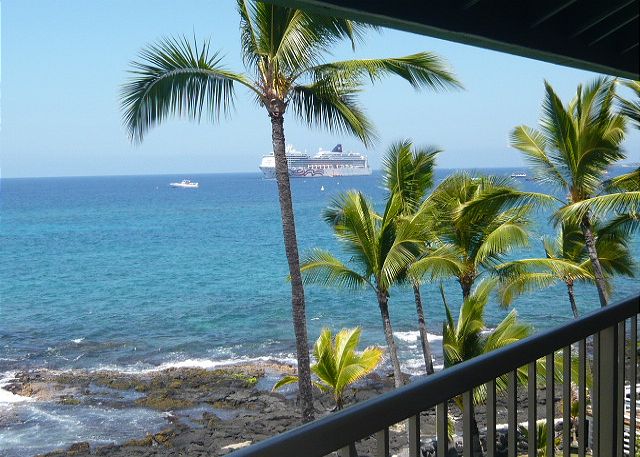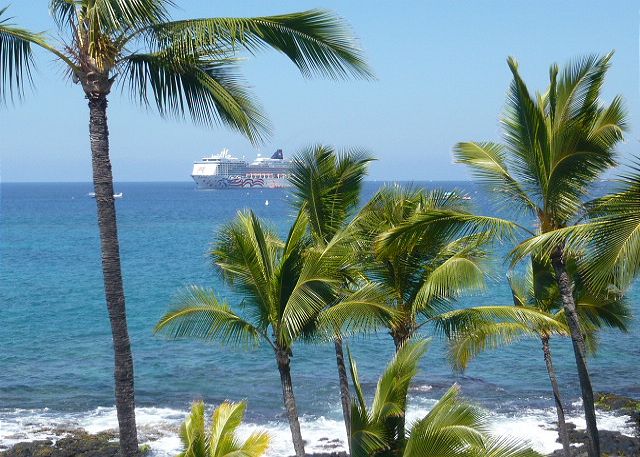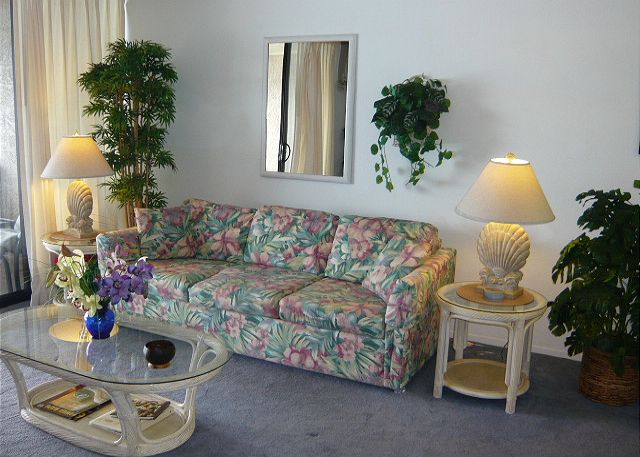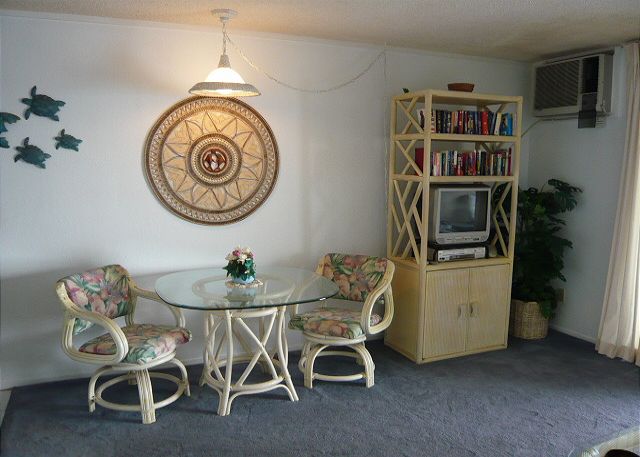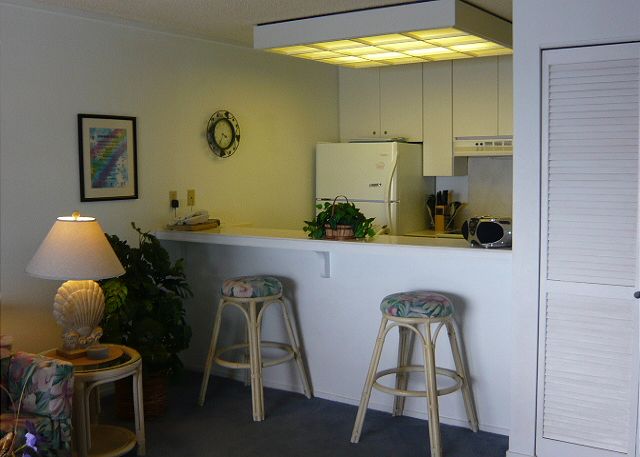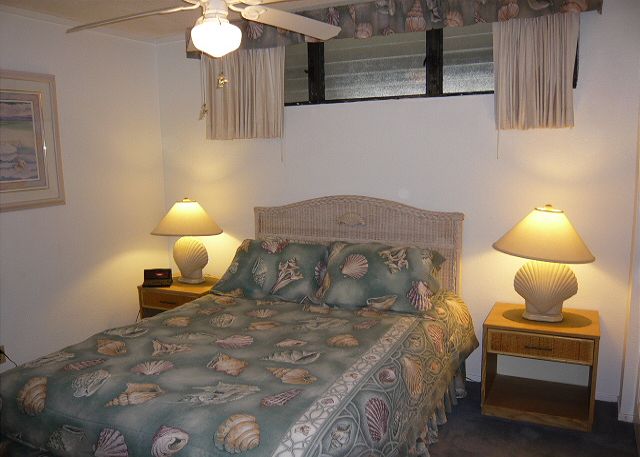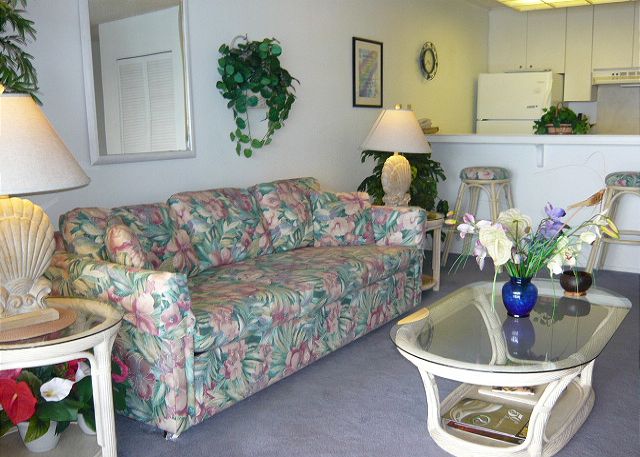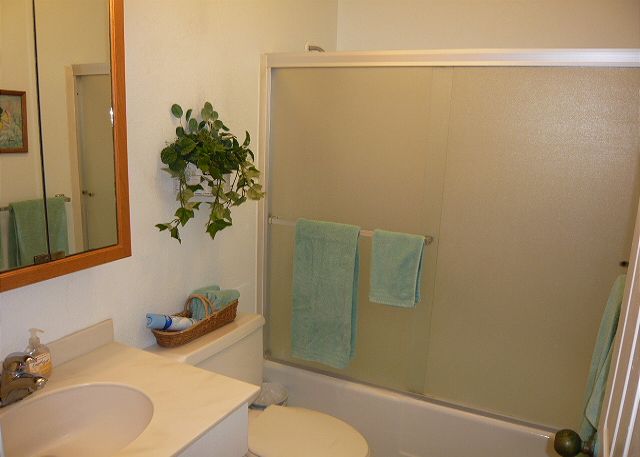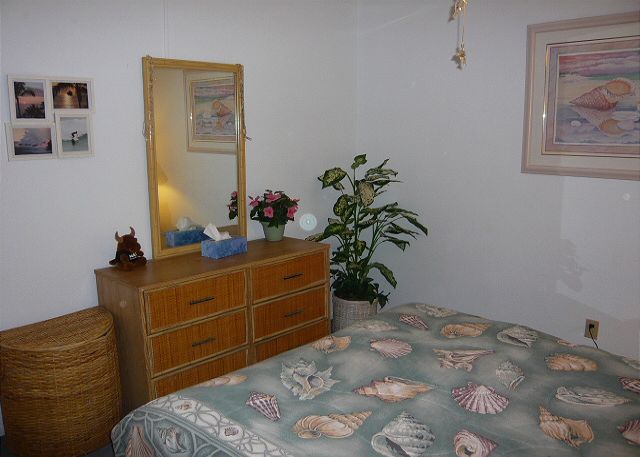 Directions: Click on the calendar to select your arrival and departure dates. Then calculate your rental cost and book it!
Located within easy walking distance (1/2 mile) of charming downtown Kona, and only 3-5 minutes from other shops and open markets. The Kona Reef has free parking, both covered and open, elevators, air conditioning and ceiling fans. From the upper parking lot, it's only 9 stair steps up to the 4th floor level.
Enjoy the oceanfront swimming pool, soak in the jetted hot tub, or just relax with a good book on one of the new lounge chairs on the sun deck.
In the evenings, join friends/family in the covered cabana for a BBQ using one of the complimentary BBQ's, while enjoying a favorite tropical beverage. Or, enjoy the incredible Kona Sunsets from the privacy of your own spacious lanai.
From the ocean front lanai, you can watch the surfers right out in front since this is one of the best surfing spots on the island, view sea turtles in the tide pools right in front of you, and enjoy watching the many activities of the Kona harbor.
Comfortable, clean, and appropriately decorated, this condo unit features one of the best views around. A 3 night minimum stay is required / 10 during Ironman & Christmas Season. This is a non-smoking no pets unit.
Keep in touch with free wifi in the unit as well as toll free long distance to the mainland USA. Hawaii Tax ID: W30263172-01
AC Window Unit in Living Area
Blender
Complex BBQ
Covered Parking
Free calls to Canada & Mainland
Iron & Ironing Board
Maps at konacoastvacations.com
Not ADA Compliant
Shopping and Dining
Stove
Washer/Dryer

Association Swimming pool
Ceiling Fans Throughout
Concierge Service Available
Cultural Shows and Events
Free Internet Access
Island Tours
Master Bedroom has a Queen Bed
Oven
Sofa Sleeper in Main Living Area
Street Parking
Water Based Activities

Beach Towels One Per Guest
Coffee Maker
Cookware
Dishwasher
Hair Dryer in All Bathrooms
Local Phone Service
Microwave
Refrigerator
Spa
Toaster
www.konaconcierge.net
| Start Date | End Date | Weekly Average |
| --- | --- | --- |
| 10/15/13 | 12/19/13 | $ 945.00 |
| 12/20/13 | 01/05/14 | $ 1,393.00 |
| 01/06/14 | 03/31/14 | $ 1,155.00 |
| 04/01/14 | 10/02/14 | $ 945.00 |
| 10/03/14 | 10/13/14 | $ 2,029.80 |
| 10/14/14 | 12/19/14 | $ 945.00 |
kona reef resort

Aurelle L. from Kalowna, BC recommends this property
Stayed 10 days in Nov, 2013
Very nice one bedroom condo. All the ammenities were there for convience. On the water and walking distance to town. I would book it again.

Overall Satisfaction
Services from rental manager
Cleanliness
Location
Property Condition

you will like it!

Betty W. from Allyn, WA recommends this property
Stayed 27 days in Oct, 2013
This was exactly what I was looking for.

Overall Satisfaction
Services from rental manager
Cleanliness
Location
Property Condition

Perfect Location

A Guest from Bend, OR recommends this property
Stayed 6 days in Aug, 2013
Kona Reef couldn't be in a better location. The unit we rented was also clean, comfortable and had a wonderful ocean view. These condos could become our home away from home in Kona.

Overall Satisfaction
Cleanliness
Location
Property Condition

Greatest holiday ever!

Paula D. from Boise, ID recommends this property
Stayed 7 days in Jun, 2013
The place was immaculate. The lenai was just as described. There were extras galore provided in the place that helped greatly! We want to stay again in the same unit if able in the future. We will recommend the complex to everyone we talk with. Thank you!

Overall Satisfaction
Services from rental manager
Cleanliness
Location
Property Condition

Kona Reef D37

A Guest from Kamloops, BC recommends this property
Stayed 10 days in Dec, 2012
Hi travellers
In general we were satisfied with our stay at this complex. The complex itself is older but well maintained and clean. It's location is second to none. The location of this unit which is on the water side is stunning. Every evening after returning late from the beach and getting cleaned up we would watch the amazing sunsets and every day that we were at the complex in the afternoon around 1 to 2 the turtles come to feed on the vegetation on the lava rocks out front. The village is conveniently located a very short walk away.
Our only concerns for this unit: the bed in the one bedroom is saggy but does have a pillowtop on it; they say its a queen bed but it is not very big seemed like a double! The pullout couch we were told was new but the bed in it is awful-all springs! The phone is awful! it is old and you cannot hear people talk on it at all-be prepared to have to use your cell phone. The internet connection is not great either. The bedroom window is located on the parking lot side of the building. If you sleep with the windows open be prepared for noise in the night even though security is good here.
Other than these rather important details the room was great!

Overall Satisfaction
Services from rental manager
Cleanliness
Location
Property Condition
All prices and/or descriptions are subject to change. Although every precaution is taken, errors in prices and/or descriptions do occur on our web site and in printing. We reserve the right to correct any such error.